Discover the guinguette snack bar of the campsite in Montreuil Bellay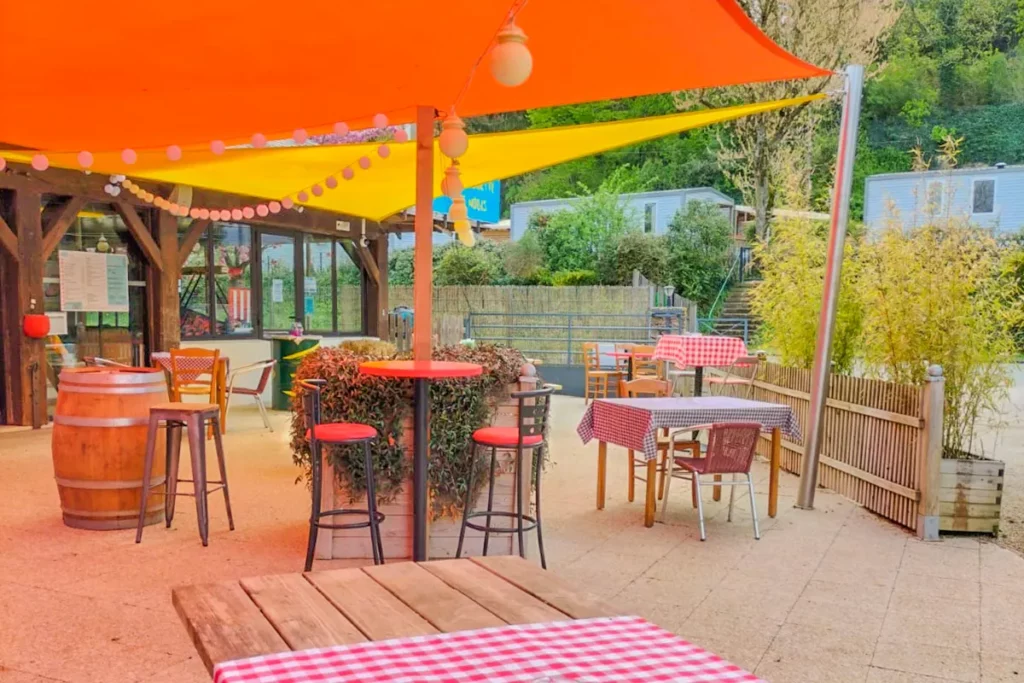 Camping paradise Les Nobis d'Anjou in Montreuil Bellay welcomes you as soon as the sunny days arrive, on the large sunny terrace of 130 m² with shade sail. Before ordering, you can have an aperitif at the bar, dancing to the famous fiesta boom boom of camping paradis.
All the ingredients are there to spend good moments of pleasure and relaxation! Snack bar service hours: 12:00 to 14:00 – 18 :30 to 21:30 during the Easter holidays. Every day, noon and evening in July and August. The bar is open all day.
The guinguette will be closed on Mondays, in low season (except school holidays and bridges).

La guinguette des nobis d'Anjou accueille tout le monde, vacanciers, Montreuillais , angevins. Hikers passing on the francette bike, workers. Want a holiday air for a drink or a meal, to participate in the evening entertainment, in paradise of the stars of camping paradise, everyone is welcome at the guinguette.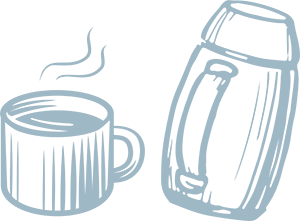 The guinguette of Camping Paradis Les Nobis d'Anjou welcomes you in a warm and friendly atmosphere.
You have a little hunger but no time to go to the restaurant, lazy .. Or you are on the lunch pose. Do not hesitate we welcome everyone. Take the holiday air for a lunch break at Camping Paradis Les Nobis D'anjou.
Gourmet snack with pizzas, burgers, salads, tapas and aperitif boards in a friendly spirit and especially with good humor.
On site or to take away from 12.50 € the burger.
A guinguette atmosphere with entertainment from April.
Breakfast formula at 7.90 € at the bar (on reservation).
Bruschettas all day, from 7,50 e
Fish and Chips, aperitif board and many others!
Bread and pastries every morning (on order).
Discover our menu
+
Enjoy simple cuisine in a friendly atmosphere
At La Guinguette des Nobis d'Anjou in Montreuil-Bellay near Saumur, from April to September, come and recharge your batteries in a light and family atmosphere. A natural, warm and gourmet atmosphere, dishes served in a warm setting and a family atmosphere. A simple kitchen with a touch of fantasy! The snack bar offers you holiday cuisine, excellent value for money.
A welcoming setting, a warm atmosphere at the gates of Saumur.
Lunch with family, evening with friends, share a moment of conviviality during your holidays or your visit to the campsite in Saumur, find yourself on holiday even if only an evening, the time of a gourmet getaway in the Saumur …
At Camping les Nobis d'Anjou, it is not only holidaymakers who can enjoy our terrace, heated room in spring and air-conditioned in summer. We also welcome in a simple atmosphere of guinguette, people outside the campsite. Tourists, locals, employees…
From April, come and discover our simple menu, dishes that appeal to the greatest number. The snack team is ready to serve you our gourmet burgers, our fleshy pizzas, our light salads.
At lunchtime… a meal on the go with colleagues, a nearby construction site, tired of making food, a little pleasure break, a stop on your route of the Vélo Francette or other. Come and order or eat on site, for an hour in a holiday atmosphere from April to the end of September.
Craving sweet… At any time of the day, pancakes, waffles, or ice cream will be there to delight your taste buds.

Want a drink with friends to unwind from the day, come and taste and discover around an aperitif board or tapas our delicious cocktails with or without alcohol, Anjou wines offered by our local producers.

You like to meet people, sing, play, dance … Camping Paradis Les Nobis d'Anjou is also entertainment from April in the evening and during the day with our animators delighted to meet you and make you participate in their program for young and old, family or friends. Aperitif games, karaoke, quizzes, lotto, concert, show… Everything is on the program to have fun.
You want to link business to pleasure, eat, meet over a drink with friends in Montreuil-Bellay near Saumur. The guinguette Les Nobis d'Anjou welcomes families, friends, holidaymakers, in Maine-et-Loire (49). Here is the opportunity to meet in a warm setting around a simple and gourmet cuisine where originality is not excluded!
Depending on your desires, you can sit on one of our terraces, order a homemade cocktail with or without alcohol, taste our tapas, or our aperitif boards. If you feel like it, you can also enjoy our pizza, burgers, or salads.
We also think of gourmets or afternoon snacks, with our sweet menu: waffles, pancakes or ice cream….
Discover our other services!